Scotland's social care support system is in crisis. It's failing disabled people and carers and the way Scotland funds it is not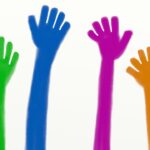 working.     

follow the debate on Twitter: @soccareambition
Downloads:
Social Care Statement (full document) Statement of Ambition Full Document
Social Care Statement (easy read) Statement of Ambition Easy Read v3
BSL version is also available at: http://www.socialcareambition.co.uk
That's the view of a coalition of 16 Scottish organisations, representing disabled people and older people, women, care providers and paid and unpaid carers and the voluntary sector, who are calling for urgent action by national and local government and policymakers. Others including academics, trade unions, politicians, local authorities, care providers and professionals also share their concerns on the future of social care funding.
The Shared Statement of Ambition report was launched in Edinburgh today (27 July) by the Independent Living in Scotland project and 15 co-signatories, including LCiL, who believe a wholesale approach covering the entire system of funding social care is needed.
Scotland spends £2.9 million[i] a year on social care support, yet many disabled people are still without essential support, beyond basic washing and dressing. What they need is support which allows them to work, study, contribute their communities and lead a normal life, while carers – both paid support workers and unpaid family members – and service providers are often struggling to cope, which impacts on the quality of care they can give.
The report's authors say that the role of social care support and funding for it is fast diminishing as the population ages, disabled people live longer and public sector finance declines. They are calling on the Scottish Government to take a wholesale look at what social care support should achieve for society and to recognise it as an infrastructure investment in the social and economic well-being of Scotland. The report says that a national Commission is needed to look at the changes required to create a system that lives up to Scotland's social justice and human rights ambitions and to identify suitable and sustainable funding, including the development of innovative new models of funding it.
Chair of the Scottish Independent Living Coalition Dr Jim Elder-Woodward, OBE, said: "Disabled people seek a life, not a service. This is about human rights. Disabled people are paying the price, along with their family carers. Carers, both paid and unpaid, are predominately women, so it's also a gender issue.

"Underfunded social care support leads to isolation and deprivation for disabled people and prevents them from having dignity and choice and control over their own lives and participating in the civic and social life of society as full and equal citizens. Good social care support is also key to the success of the current integration of health and social care services in Scotland, otherwise there will be even more delayed discharges from hospital and repeat admissions, which is damaging both socially and economically.

"The system is broken: there is simply not enough money. This needs to be addressed if we want to achieve the new government's commitment to a truly inclusive and prosperous Scotland, to create jobs and economic growth, improve health and well-being, create resilient communities and tackle inequality. Our ambition is for sustained public investment in the development of a modern, nationwide infrastructure of social care support that is fit for purpose, equitable yet flexible, and which will protect, promote and ensure human rights."
Social security – including disablity and carers' benefits – is now devolved to the Scottish Government. The report authors say this provides Scotland with a golden opportunity to develop a national system of genuinely joined up, person-led financial and practical support. But they also warn the new devolved budget should not lead to a "benefits gold rush" used to plug gaps in social care support funding and that the ongoing integration of health and social care support must not lead to basic support that is limited to "healthcare in the community", at the expense of disabled people's independent living.
Florence Garabedian, CEO of Lothian Centre for Inclusive Living (LCiL), said: "As a Disabled People's Organisation, supporting disabled people, people with long-term conditions and older people to live more independent lives, LCiL witnesses everyday how care and support can change the lives of people and enable them to enjoy life and engage as equals in their community and wider society. It is with great concern, however, that we increasingly witness very narrow eligibility criteria which allow people only the bare minimum of support, or deny them it altogether. We see them, and their families, struggle to live decent lives. If we want Scotland to live up to its ambition to be a fairer country we must all be ambitious for social care and commit the resources that will enable people to empower themselves, create systemic change, and build a better society for all."

Claire Cairns, Network Coordinator, Coalition of Carers in Scotland, said: "There are 759,000 people in Scotland providing
unpaid care to family members and friends. 171,000 of these care for 35 hours a week or more, 132,000 care for 50 hours a week or more. To put this in context there are more unpaid carers than the entire health and social care workforce combined. While this is often a positive choice made by disabled people and their families, there is increasing pressure on people to take on caring roles and to care for longer hours, often without adequate support. Carers are predominantly women and many end up giving up employment to care full time. Disabled people and their families need to be able to choose what support works best for them, whether this is paid or unpaid care, or a mix of both. This cannot happen without more investment in social care."
The Shared Statement of Ambition is part of a wider civic society dialogue hosted by the Independent Living in Scotland project and supported by Inclusion Scotland, Scottish Council for Voluntary Organisations, self-directed Support Scotland, Coalition of Carers in Scotland, Vox Scotland, Glasgow Disability Alliance, Lothian Centre for Inclusive Living, Glasgow Centre for Inclusive Living, Engender, Disability Agenda Scotland, Learning Disability Alliance Scotland, Health and Social Care Alliance Scotland, Iriss, Scottish Care and Coalition of Care and Support Providers in Scotland
[i] Scottish Government figures for social care 2014-15