Since I started my role as Self-Management Project Support Worker with LCiL in April 2020  I have been working with people living with long term conditions in Edinburgh. At LCiL we are aware that even in normal circumstances life can be challenging for people who have a health condition, and not surprisingly many of these everyday challenges have been amplified by the impact of the COVID-19 pandemic.
One of the most striking issues people have faced has been how to self-manage their pain. In the absence of routine pain clinics and with people often being in the SHIELD group, their daily routines have been significantly disrupted – it was clear from the conversations I was having that more support around the self-management of pain was really important.
A short bite-size Workshop (2 hours in length to be delivered via Zoom) on this subject of pain management was organised for the 12th of May 2021. To help prepare for this I spoke to a number of Health practitioners, attended a "Flippin Pain" Webinar and carried out a lot of my own research to ensure that the content and delivery would be as useful and relevant as possible for those who attended.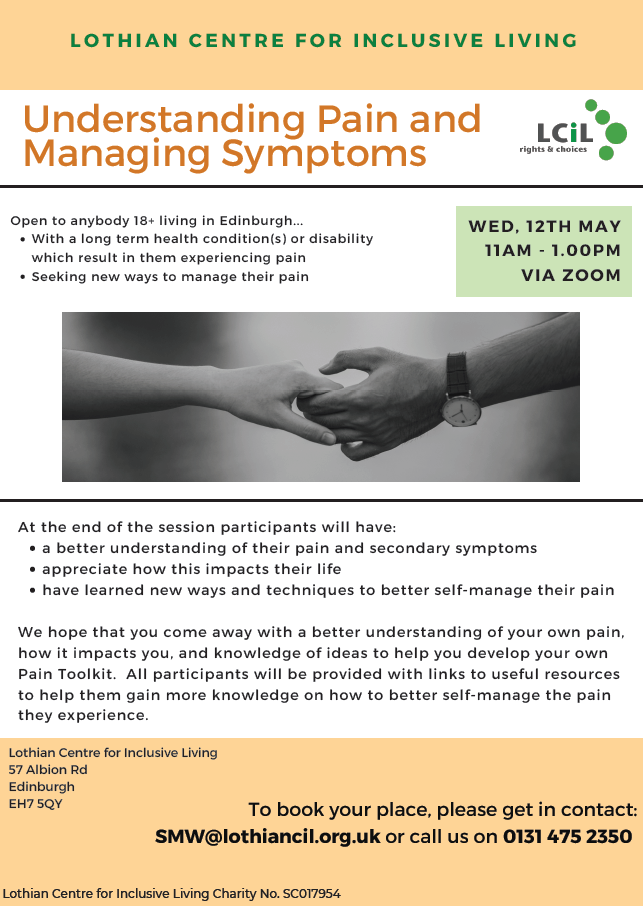 The aim of all LCiL's Workshops are to be inclusive and participative so that people can learn and support each other with their own lived experiences. To achieve this, we decided to share feedback from one of our LCiL Champions, designed some exercises which everyone with pain could relate, to and incorporated two videos which were particularly relevant for the content of the workshop.
We had nine attendees and we were delighted with the openness and knowledge all our participants brought. After the Workshop we sent useful links to some great online resources, the learning we had captured from the Exercises and an Evaluation form so we could gather feedback.
Attendees reported feeling more encouraged and confident. They noted they had enjoyed being listened to, having the opportunity to connect with others, and felt more empowered to deal with their everyday challenges.
When asked about their reflections on the workshop, one participant said:
"You guys on Zoom have helped to save my life and this is not an exaggeration…. just by simply being there and offering the opportunity for a safe, real-time, human interaction to people like me – the ones who fall through the net and/or are difficult to reach. Thank you, guys, for changing my life!"

Workshop Participant
Self-management is often a journey and what works for one individual will not necessarily be right for another – but we can support people to feel more confident and knowledgeable about the different tools and techniques available.
We aim to run this workshop on a regular basis with the next one to be scheduled toward the end of August 2021. To register your interest please email SMW@lothiancil.org.uk
Further Reading
---
Paula Moncrieff
Self Management Project Worker