We're now well underway on our countdown to the official launch of The Social Care (self-directed Support) (Scotland) Act taking place on Tuesday 1st of April 2014 at 11am.   We are inviting people right across Scotland to join us, in partnership with the Scottish Government, on this important occassion by tuning in live whilst we broadcast the event live to you directly via our homepage at: www.lothiancil.org.uk
During the event MSP, Minister for Public Health, Michael Matheson will be joining disabled people to officially launch the new legislation. Disabled people who have benefited from using Self-Directed Support (SDS) will speak about it has made a difference to them, including enabling them to contribute to life of the community and following their own life-path.

We're inviting you to have your say via our Twitter feed on the run up to then and during the event using the hastag #makeSDS work.  During the event our Twitter feed will be streamed live for others to see so make sure you get your tweets in!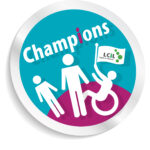 Find out what the LCiL Champions have been saying about how they hope SDS will work for them on  our dedicated  #makeSDSwork webpage here. 
Florence Garabedian, Chief Executive from LCiL had this to say about the event:
We are delighted to be working in partnership with the Scottish Government to launch this significant piece of legislation on the 1st of April. For over twenty years disabled people's organisations have been working hard to provide services to ensure disabled people can live an independent life based on their own individual choices.  SDS provides the opportunity for disabled people to have control over how their support is delivered to them, using an approach that takes into account their ambitions and goals in life.  It's not about spending more money, but using existing resources more creatively and encouraging a dialogue between people planning and providing services and those on the receiving end to better suit the individual. 
Suselle Boffey, a disabled woman who use SDS and a campaigner for Independent Living in Scotland said this:
This piece of legislation is an important milestone in recognising the rights of disabled people as equal citizens.  Support to live independently is a human right.  It often demands some energy and determination to find the right level of support.  However, through accessing information and support through support organisations like LCiL, I have support available through Personal Assistants (PA) I employ, which enables me to choose when to wash my hair, when to go shopping, whether or not to go to the cinema or visit friends.  I am able to volunteer to take positions of trust within organisations I support, in the knowledge that a PA is always on hand.  These are activities which most non-disabled people take for granted. 
For more information please contact Information and Communications Coordinator, Kirstie Henderson on 075401 65829 or 0131 475 2350 / email: Kirstie.henderson@lothiancil.org.uk