Summer has arrived in Scotland, and with it comes sun, longer days, and of course a brand new edition of Lothian Disability News!
In this summer edition we welcome a foreword from Lyn Pornaro, Chief Executive Officer of LCiL who came into post in March of this year, but has been working with the team here since 2019.
Also in this edition:
We introduce some of the new faces who have joined our teams here at LCiL in the last year
Find out the latest important news regarding the £500 Payment for Personal Assistants and how this can be claimed by eligible Personal Assistants
The latest updates from around the busy teams here at LCiL.
Also look out for news on how you can share your views on our services in an upcoming feedback survey!
It's a packed edition, click the link below to start reading now!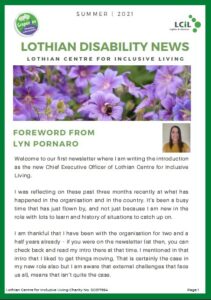 Please check out our website for the latest News and Events, and our Facebook and Twitter pages to stay connected with LCiL.