LCiL has responded to the CEC budget consultation and is encouraging other organisations and individuals to do the same.  You can read our response on the E-library here
Consultation responses are being accepted until the 19th of December 2014.  You can find out more about how to respond, including further details about the budget on our dedicated webpage in the Get Involved section: https://www.lothiancil.org.uk/get-involved-with-lothian-cil/your-say-edinburgh-budg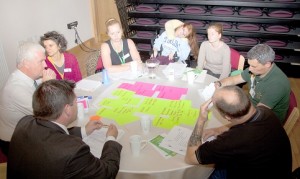 et/
In a tough financial environment disabled people, people with long-term conditions and older people are the first ones to feel the impact on their quality of life and on their ability to remain active and visible in their community. Targeting cuts to the very services that support them to live independently, and to remain members of their communities, would just lead to more exclusion and marginalisation, and increase the gap between those who have and who have not.
In this budget, of the 69 saving proposals 25 directly target services to disabled people, people with long-term conditions or older people and/or the organisations supporting them. Taken together these represent 32% of the financial total of the overall suggested savings.
Now is the time do make your voices heard!  If you are a disabled person, person with long-term conditions, older person or supporter, living in Edinburgh, we urge you to respond with your views and comments.