What's the Distance Aware Scheme?
The Distance Aware Scheme is a new initiative supported by the Scottish Government designed to help people who are concerned about sharing the same space with others as we adapt to living with COVID-19.
Although the Distance Aware Scheme was originally developed by the Bevan Commission for Wales. The Scottish Government worked closely with the Bevan Commission to adapt the principles of the campaign for Scotland. The Distance Aware Scheme is the perfect way of understanding and respecting those who can be affected by the consequences of COVID-19 using a simple shield symbol.
The shield symbol, displayed as a badge or lanyard, signals to others that the wearer requests extra distance and care around them.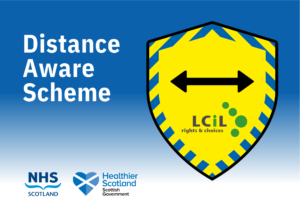 Why is it important to be aware of it?
We all know COVID-19 has affected everyone in very serious ways and continues to have a significant impact on our daily routines. Some people are worried about sharing a common space with many people around them and they would feel more confident if they have more space around them
The Distance Aware Shield is a symbol that we have to start to get acquainted with since it holds an important meaning. If you see this symbol the person who is wearing it prefers to take extra care of the space around them.
At LCiL we are proud to support the aims of this scheme and will be taking action to help promote it, including displaying posters in our offices and discussing it internally at staff meetings
Where can I get a badge or lanyard? Can I get them online?
Everyone can pick up a free Distance Aware badge or lanyard from any library across Scotland and there will also be free badges available in most Asda stores in Scotland
If you prefer to get them online, here's a full list of charities to order from on the Bevan Commission Website: https://bit.ly/3nZfPJ4
We would like to remind you that some of these charities charge a small fee for a badge or lanyard.
#BeDistanceAware