About Us
Managing your support with LCiL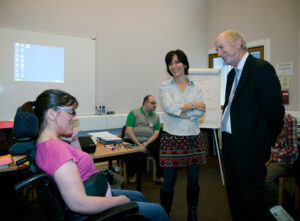 We can help with all aspects of self-directed support (SDS), including:
preparing for an assessment
providing independent information on all the SDS options available to people in receipt of care/support
helping to organise and manage your support according to the choices you make – e.g.
to use a particular service provider
to use an agency
to recruit and employ Personal Assistants (incl. help with recruitment, contracting, managing all aspects of payroll, managing Direct Payments (DP) finances)
to purchase equipment
We can support and offer information to people who are exploring how to meet their individual outcomes via Independent Living Support (To find out more click here).
Learning and training opportunities available to:
disabled people, people with long-term conditions, older people and carers
organisations – from presentations, or input in discussions, to complete package to meet all organisations' training needs, LCiL can work with organisations and their staff or service users on a range of topics covering:


Self Directed Support options, including Direct Payments and employing PAs
Independent Living
Diversity/Disability Equality Training (LCiL would charge at very reasonable cost for this)
Visit our Training Service here.
Information on any disability issues (incl. money and funding, disability benefits, education and employment etc.).
Visit our Grapevine information service.
For any information on the above please contact:
Lothian Centre for Inclusive Living (LCiL)
Norton Park, 57 Albion Road
Edinburgh EH7 5QY
Phone/minicom 0131 475 2350
Fax 0131 475 2392
Email: lcil@lothiancil.org.uk or