Self-Directed Support – Questions and resources
The Social Care (Self Directed Support) (Scotland) Act came into force on the 1st of April 2014.  This landmark piece of legislation should mean that anyone being assessed for care and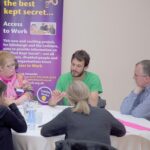 support via the local authority must be offered more choice about how they receive support – people should:
have their needs assessed in terms of outcomes (what they want to achieve). This will be done as a conversation with a social worker where possible outcomes are discussed.
be helped to make a plan of how they spend the budget to achieve their outcomes
be told the overall amount of money in their individual budget (in £s, rather than hours of service)
be given four options for how they receive support:
a direct payment, as above
the responsibility for financial management of the budget stays with the local authority, but the individual chooses what services it is spent on
the local authority decides what services the individual receives
a combination of options 1, 2 and 3

LCiL is working with you on managing self-directed support (find out more here) .
Resources to support you with Self-directed Support (SDS):
The guidance and regulations to accompany the SDS Act can be found on our E-library within the Self-directed Support section.
Here you will also find the user guides which explain the guidance in more straightforward terms for service users, carers and practitioners.  Each guide also has a complementing user friendly App for people to use on their I-Pads so they can get to grips with self-directed support.  Each one can be found and downloaded from this link: http://guidance.selfdirectedsupportscotland.org.uk/
Some of the other materials which you may find useful include: 
Videos:
The 2nd of the 4 videos available on this webpage which features Pam Duncan speaking about progress made so far with Self-directed support: http://www.iriss.org.uk/resources/self-directed-support-and-peer-support
The Scottish Consortium for Learning Disability (SCLD's) SDS 'what it means to me' can be found here: http://vimeo.com/9153335
North Ayrshire have this graphic facilitation version of how the whole SDS process works there: http://www.youtube.com/watch?v=o26j_yE1PNg
This short film from Perth and Kinross shows three service users talking about how SDS works for them: http://www.pkc.gov.uk/selfdirectedsupport
Self-directed Support Scotland (SDSS) are a national user led organisation supporting disabled people's organisations with SDS and they have a whole host of information and resources available for people right across Scotland on Self-Directed Support, including videos and case studies which can  be accessed from their website here: http://www.sdsscotland.org.uk/ 
All our resources and materials are aimed at disabled people and their supporters. Our online E-library provides quick and easy access to a range of information including factsheets, leaflets and other publications.
These can be made available in a variety of formats including large print, audio, braille and easy read on request. We can make information available in other languages on request. Please contact us directly for more information.
If you cannot find what you are looking for on or have suggestions for factsheets and publications we should be providing please let us know.
Get in touch on 0131 475 2350 or use our get in touch form here: Contact Us