Join LCiL – membership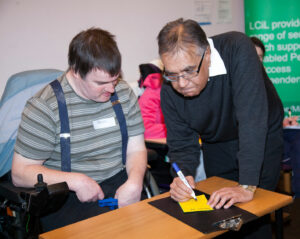 LCiL is a Disabled People's Organisation which is part of the Disabled People's Movement. As a user-controlled organisation we want our members to be actively involved in the organisation. We believe that our services can best meet the needs of disabled people if they have the opportunity to contribute their experience and abilities to the organisation.
Join LCiL now and be part of the Disabled People's Movement and the Independent Living Movement in Scotland.
Membership of LCiL is open to both individuals and organisations:
Full Membership – With full voting rights – any individual disabled person, the members of the LCiL Board and other user-led disability organisations.
Associate Membership – Other individuals or organisations who wish to support LCiL.
Fees
Individuals: £12 per year
Organisations: £25 per year
Please send a cheque with your membership application form LCIL Membership Leaflet
Or for more information on membership of LCiL contact:
Kelly Jack
Administrator
Tel: 0131 475 2350 OR email: kelly.jack@lothiancil.org.uk
Learn more about how LCiL Champions are making a difference