Press And Media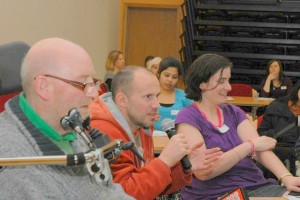 Coverage of disability by the media influences and affects public opinion and has a fundamental role in informing and shaping public attitudes. LCiL therefore welcomes media enquiries and supports accurate and informative reporting.
LCiL is happy to review or advise on any media coverage, and to provide case studies, including people who have experience of using our services when available.
Florence Garabedian, Chief Executive for LCiL, may be available for comment or interview on request on relevant news stories. Please contact us on 0131 475 2350 during office hours (Mon-Fri, 10am-4pm) or use our form to contact us (link). To be added to our database to receive press releases please email: [email protected]
Previous press releases can be found in our news and events section.
For all media enquires please contact Kirstie Henderson on 0131 475 2350 or email: [email protected]