Training for Organisations

Our training team also provides tailored training to organisations and interested parties using the most appropriate, effective training methods.
The training team's strength lies in their ability to use their professional training skills, supported by personal experience of disability, to ensure that the material and delivery of the courses are informed by current thinking and relevant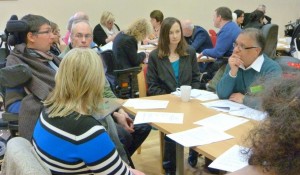 information.
Our training courses are participative and user friendly. We can offer training and consultancy on the following topics:
Disability Equality Training (DET) – DET is devised and delivered by Disabled People, and aims to promote the Social Model of Disability; make the distinction between Disability and Impairment and use discussion to explore ideas about disability issues and how this impacts upon people and services.
Disability Etiquette – Disability etiquette was developed by disabled people as a helpful tool. Its intent is to offer guidelines that will encourage people to freely interact with disabled people.
Direct Payments/Independent Living and Self Directed Support – We can offer training in the 'What, Why, Who, How?" of Direct Payments and Self Directed Support, to social workers, health professionals and anyone else with a vested interest in providing information to disabled people, people with long term conditions and older people.
We are happy to talk about what requirements you may have and even carry out training analysis to find out what courses may be suitable.
Contact us via our or call us on 0131 475 2350 and ask for the Training Team. Email enquiries can be sent to: training@lothiancil.org.uk

Register your interest or book a place via our online form

Read on to find out more about our resources and Frequently Asked Questions (link)