Information for Personal Assistants (PAs)

Many disabled people choose to use their Direct Payments to employ Personal Assistants (PAs). Those that choose this option say it provides them with greater choice and flexibility than more traditional care services.
The hours of work, roles and tasks are as unique as the employers themselves, and a good match can be very rewarding for both the employer and employee.
Below are some answers to common questions about having and or being a PA.
What's the difference between a PA and a carer?
A Personal Assistant is someone employed directly by a disabled person to provide them with support. While 'Personal Assistant' is the preferred choice of job title used by LCiL, some employers may prefer to use other titles like 'care worker' or 'support worker'.
Irrespective of the job title, the employer is the disabled person or someone acting on their behalf.
For example;
Michael is 30 years old and lives alone, he manages his own Direct Payment and is the employer of his PA, Peter.

Daisy is 6 years old and her Direct Payment is managed by her mother Sarah. Sarah is the employer of Daisy's PAs, Lisa and Louise.

Hugh is an older man with dementia. His Direct Payment is managed by his wife, Lorraine. Lorraine is the employer of Hugh's PA, Robert.
Therefore, we can consider the difference between a PA and any other kind of carer (including unpaid carers like family members and friends) is that a PA is employed directly by a disabled person.
The nature of this relationship means that it should be much more flexible and personalised to meet the needs of the disabled person than other options available to them.

There are also some myths about PAs we'd like to dispel: 
Assuming you have the availability and flexibility to meet their needs, you can work as a PA for multiple employers. Importantly, you won't be taxed at a higher rate.

Job descriptions are unique to each employer. It's important to bear this in mind if you're a PA to more than one employer. For example, one job description may specifically exclude domestic duties while another explicitly includes them.
There is a common misconception that LCiL employs the Personal Assistant on a disabled person's behalf or that we are a recruitment agency that matches PAs to employers. This is not the case.
What does a PA do?
PA support can include but is not limited to assisting with personal care and support in taking medication, domestic duties around the home,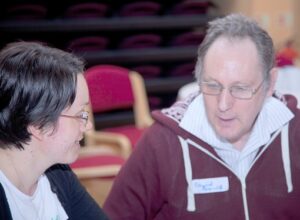 supporting a disabled person to take part in social activities or assistance to attend work or education. Anything really, which the disabled person would require support to live as independently as possible.
A PA role might involve working closely with other PA's, the employer's family, or members of their household.
It is important that you read each employer's job description carefully to decide if a role is right for you and seek clarification where needed.
No matter the duties that form your job description or the environment you work in, it's important to maintain respectful and professional boundaries with your employer.
More information about being a PA can be found on the PA network website www.panetworkscotland.org.uk 
What is LCiL's role in recruitment?
LCiL works with our service users on an individual basis to support them to recruit and employ their Personal Assistants.
We can support employers as much or as little as they require.
This can include helping to create personalised job descriptions, support with interviews and giving advice on good recruitment and employment practices.
We provide administrative support to employers and as part of this service we advertise posts and collect applications. This allows service users to remain anonymous in the early stages of recruitment and protects their privacy. We do not shortlist or make decisions on PA appointments.
What training and experience do I need to be a PA?
The training and experience required for PA jobs vary for each position and it will be down to the employer to decide what training or experience they require.
A lot of employers provide on the job training, or they may offer you more formal training provided by an external body, e.g. moving and assisting training or Epilepsy training.  An employer does have a responsibility to ensure that their employees feel confident performing their job duties.
Check each job description and person specification for details of what training is required or available.
What training is available?
If the type of role y ou are interested in requires training, you can choose to do this yourself. This may give you a greater choice of available roles.
LCiL can provide training for PA's. This can give you a better understanding of your role as a PA and how to support your employer without overstepping boundaries. Details can be found on our Training for PA's page
How do I become a PA?
LCiL advertises all of our service user's PA vacancies on our website and we regularly update this page with new opportunities. You can download an application pack for each role which includes a job description and application form. www.lothiancil.org.uk/pa-vacancies
Top tips for writing an application?
Writing good job applications is a skill in itself and it is your opportunity to sell yourself to a prospective employer. Consider the following to give you the best chance of being invited to interview.
Refer to the job description and what the employer is looking for from applicants
Back up statements with practical examples
Think about transferable skills you can offer
Your application should be professional but try also to reflect your personality and interests
Complete the full form, don't leave areas blank or only partially completed
Avoid handwriting your application wherever possible. If you have to, make it as legible as possible
If you're typing your application, use spellcheck!
Draft and re-read your personal statement to make sure it makes sense
Is there a friend or family member you can get to proof-read your application? A fresh perspective can be really helpful
Submit your application on time, to the correct person

I have an issue with my employer, can you help?
LCiL work with disabled employers and not their PAs. We challenge unfair and unlawful employment practices but are not responsible for the actions of the employers we support.
If you have an issue with your PA role or your employer, you should refer to your terms and conditions of employment for the grievance procedure and follow the steps detailed. For further advice, you can contact Citizens Advice Scotland via www.citizensadvice.org.uk/scotland/work/
or ACAS,  www.acas.org.uk helpline number  0300 123 1100