Peer support groups for disabled people and people with long-term conditions continued
'From the group I have made new friends and got support when I needed it the most.'
Monthly peer support groups are organised and facilitated by LCiL staff, but owned by the group members, who meet to:
discuss issues and share information
get practical information, find out about resources and who to ask
develop skills and build confidence
hear from guest speakers and organisations on a range of topics, picked by the group
There are two groups: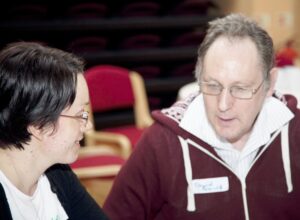 Edinburgh – for people who live in Edinburgh, Midlothian or East Lothian
For more information and dates
West Lothian – for people who live in West Lothian
For more information and dates
Both groups are open to new members at any time.
Linked peer support groups
These are time-limited (usually six sessions spread over two to three months) to allow peers to explore a theme in more depth. They are closed to new members after the second meeting.
Themes are chosen by peer support group and workshop participants, and the topic and content of each session is agreed as the group progresses.
Please see contact page for how to be informed of future meetings of any of the above.