Payroll Services
Wages and administration for disabled people employing their own Personal Assistants (PAs)
Get in touch with the Payroll Team directly on 0131 475 2638 or email: [email protected]
Do I need a payroll service?
If you are a disabled person employing your own Personal Assistants (PAs) we can help you with the processing of their wages and related administration such as dealing with the PA timesheets, tax, national insurance and many other related administration issues.
If you employ your own PAs it is your responsibility to ensure that the correct amount of tax and national insurance is deducted from each of your employee's wages.
LCiL's payroll service can do this and a whole lot more for you.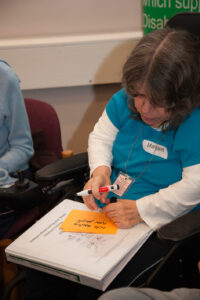 How does it work?
Each month or every four weeks you send in a timesheet detailing the number of hours worked by each of your PAs.
For each of your employees, LCiL will
Calculate the total pay
Deduct the correct amount of tax and national insurance
Calculate any sick pay, maternity pay, or other statutory payments where required
Process any wages arrestments, student loans, stakeholder pension contributions
LCiL will then send back to you:
A payslip for each employee
Payment summary sheets detailing all payments and deductions made
An information sheet advising you of the total payments due to HMRC and LCiL for this processing
What does it cost?
A one-off set up fee.
An annual fee to cover RTI administrative processes
A payment for each payslip processed (monthly or 4 weekly)
For current charges, contact LCiL.
How do I get started?
To get in touch with The Payroll Team – call 0131 475 2638.
We will arrange a visit with you to talk through in detail what you need to do.
You will need to be registered with HMRC as an employer, but LCiL can do this for you. We will supply you with a pack which has everything you need to know about Payroll.

Read on to find out more about additional support and advice.