Spring Edition of Lothian Disability News
Welcome to the Spring Edition of Lothian Disability News.
 If you want to continue receiving this newsletter and/or other information from Lothian Centre for Inclusive Living (LCiL) we need to gain your consent. New General Data Protection Regulations (GDPR) coming into effect in May 2018 means that to keep you on our mailing list we need you to let us know you want to continue receiving these. Please complete this link: https://www.surveymonkey.co.uk/r/WTRTBWZ (external link). It will take no longer than a minute to complete.
 If we don't hear from you we will have to remove you from our mailing list (deadline is 11th of May 2018).
 In this edition of Lothian Disability News you will find:
 ·        LCiL staff updates: page 3
 ·        Latest updates from Grapevine including: Cold weather payments (page 5); Personal Independence Payment (PIP) updates (page 6) and Devolved Benefits (page).
 ·        There's also dates for upcoming LCiL workshops, including Assertive communication workshops and Know Your Rights workshops in May 2018 and peer support group for parents and carers (ongoing).
Lothian Disability Newsletter Spring 2018
Short film – a personal story from LCiL service user Martin Abernethy
Powerful presentation by LCiL service user Martin Abernethy talking about his journey towards Independent Living and support he received from LCiL services, including Peer Support Groups, Assertive Communication workshop and Independent Living Support. This is followed by Florence Garabedian, Chief Executive of LCiL talking about what it takes to make Self-Directed Support (SDS) work.
Volunteer Receptionist Required – 12month contract
The role involves a time commitment every week depending on candidates' availability, ideally 10am – 4pm, minimum 2 days per week.   Full induction and training will be given and any reasonable expenses incurred will be reimbursed.    LCiL particularly welcomes applications from disabled people or people with long term conditions.
In return, we can help build the skills & confidence that you can take with you at the end of your contract.
Skills and experience
Good communication skills, organisational skills and basic administrative skills are essential.   Experience of dealing with members of the public and working with disabled people would be an advantage.  The ability to work unsupervised and to cope with a potentially high volume of phone calls is essential. A calm and empathetic manner is desirable.
You can download an application by clicking on link KK-VR-0418-Application-Pack-2018 or you can e-mail [email protected] or telephone 0131 475 2350.
LCiL Services disruptions
Like most other services and businesses in the region, LCiL is facing a number of challenges due to the weather conditions and a large number of staff members unable to reach the office.
Payroll service
A much smaller number of colleagues are able to process timesheets at present but the service is still aiming to complete the current payroll run. We are unable, however, to post paperwork to employers as there isn't any post collection at present (we will send this, however, as soon as the service resumes).
If the post office is still not working on Tuesday please give us a call and we will try to give you the salary information over the phone.
Independent Living Service
If you have an appointment with an Independent Living Officer and he/she is not able to meet you, we will let you know as soon as possible. We would appreciate if you could also let us know if you were unable to meet a pre-planned appointment.
Grapevine Service
You should still be able to reach us by email or over the phone.
SDS Development Programme and workshops
If we had to cancel a workshop, for which you are registered, we will let you know. Please let us know if you have any problem attending a workshop too.
We hope to resume full service as soon as the weather conditions improve and we thank you very much for your understanding.
Parent and Carer Workshop
Getting it Right for Your Child
Are you a parent or carer of a disabled child or young person, or a child with additional support needs?
Do you want to: 
meet other parents and carers?
explore opportunities around support?
improve your knowledge of your rights? 
increase your confidence to ask for the support you need? 
find out about practical information, resources and who to ask for more help?
For more information about the parent and carer Workshop please click on the link: Parent Carer Workshop Flier Feb March 2018
Robert MacPherson
'On Hogmanay LCiL lost a close friend, a Champion and a Board Member. Robert Macpherson was a gentle man, passionate and committed to disabled people's rights. He was a great supporter of LCiL and the work that we do. His passion was not only obvious to those close to him but to everyone who heard him speak as an LCiL Champion, where he often spoke of his own positive personal experiences of support.
Robert was also committed to volunteering for his housing association and dedicated his later life to keeping the Lanfine Unit (an NHS Lothian respite venue) open, explaining very clearly how he, and other people with neurological conditions, benefited from this hospital-based and medical support to better manage their care and life in the community. Robert was always very honest and open when questioning the circumstances of the Lanfine Unit closure.  
Robert was also very candid about his support and how the quality, and number of hours, of support he received enabled him to live a good and fulfilled life.
Through his dry sense of humour, his charm, his forthright and honest opinions (in other words, calling a spade a shovel!) and his positive outlook on life, Robert touched many of us profoundly and we are missing him tremendously.'
Activity and outcomes report for the LCiL capacity building programme
This booklet was put together by LCiL's Self Directed Support (SDS) Capacity Building Programme, which aims to build individual skills, knowledge, confidence and resilience so that people are self-empowered to live the lives they want and be more in control.
The report illustrates the power and value of peer support and how this can support individuals to be self-empowered.
You can read the report by clicking on the link: LCiL peer support evaluation report FINAL
PA Employer Workshop
Are you thinking about employing, or have recently started employing, Personal Assistants (PAs)?
The Lothian Centre for Inclusive Living (LCiL) is offering a series of workshops as part of its Pick and Mix project.  Dates are as follows:
–        Tuesday 31st October, 2017
–        Tuesday 12th December, 2017
–        Tuesday 20th February, 2018
You only need to attend one session 
Lunch is provided and transport can be arranged if required.
For more information please click on the link:  Pick and Mix flyer 2017-18
Lothian Disability News – Summer 2017
The summer 2017 edition of Lothian Disability news has just been released!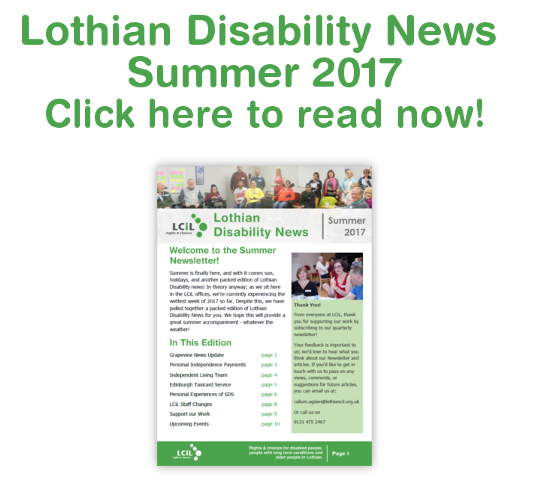 Featured in this edition:
Grapevine News Update
Personal Independence Payments
Independent Living Team
Edinburgh Taxicard Service
Personal Experiences of SDS
LCiL Staff Changes
Support our Work
Upcoming Events at LCiL
Not signed up? You can sign up to have a copy sent to you for free by completing our mailing list signup here
---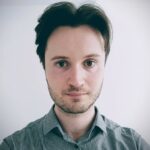 Callum Ogden
Information and Communications Coordinator
Lothian Centre for Inclusive Living
Are you a disabled person or carer thinking about employing personal assistants?
The Lothian Centre for Inclusive Living (LCiL) is offering the first of a series of workshops as part of its Pick & Mix project.
The workshop will take place on 31st August 2017, Norton Park Centre from 10.30am -1pm followed by lunch.
The information session will look at:
– What are the mandatory responsibilities of being an employer
– Identifying the steps in the recruitment process to ensure safe recruitment
– Begin to establish what you as an individual require from PAs
For more information please click on the link below: