Donate to LCiL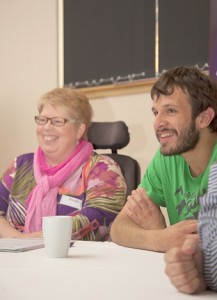 Help raise funds for LCiL and help make a difference to the lives of disabled people, people with long term conditions and older people, in Edinburgh, Midlothian, East Lothian and West Lothian.
We welcome donations from individuals and organisations, to deliver Our Services and advance the rights of disabled people and ensure Independent Living is a reality.
You can donate now using our Gift Aid Declaration form and email it to: [email protected], alternatively you can post it too Lothian Centre for Inclusive Living (LCiL), Norton Park, 57 Albion Road, Edinburgh, EH7 5QY
Our work is more relevant now than even before, particulary with the introduction of the Social Care (Self Directed Support) (Scotland) Act in April 2014, the integration of health and social care services, and impact of welfare reform on disabled people and their families.
Join our organisation and become part of the Independent Living Movement:
As a user-controlled organisation we welcome the support of individuals and organisations. If you would like to become a member of our organisation and be part of the Independent Living Movement please check out our membership page here.
Support LCiL whilst you shop!
From the comfort of your computer you can help raise funds for LCiL – all you need to do is shop online. We have registered with Easy Fundraising: www.easyfundraising.org.uk an online shopping directly which lists over 2000 popular retailers, utility companies and other businesses.
To register you need to go to www.easyfundraising.org.uk and nominate LCiL – this is completely free and we can receive up to 15% from every purchase you make. There are no hidden costs, additional costs to your purchases or administrative charges. What's more joining this service will give you access to hundreds of exclusive discounts and voucher code so not only will you be helping us – you will be saving money too!
You don't even need to spend anything – the green funds page lets you raise over £250 without spending any money. For example, eBay offer a £4.50 donation when you register and place just one bid (it doesn't even have to be a winning bid). While the national lottery will pay us just £2 for registering on their site and playing Lotto online for the first time.
We hope you think this is a good idea, and thank you in anticipation of supporting LCiL.